H.M . Tenth Regiment of Foot Music Company
|
home




Willow Pond Tattoo

The Willow Pond Tattoo is a muster that was held on Sunday April 14th on Lexington Green. 19 corps performed in the muster, some of which included 1st Michigan Fifes and Drums, Middlesex County Volunteers, Middlesex County 4-H Fifes and Drums (the honor Corp at this muster), the Quahogs, and the Boston Garrison Music.
There will be two sections to this page, the first part is for the Boston Garrison Music. The second section will be reserved for pictures of other corps that performed.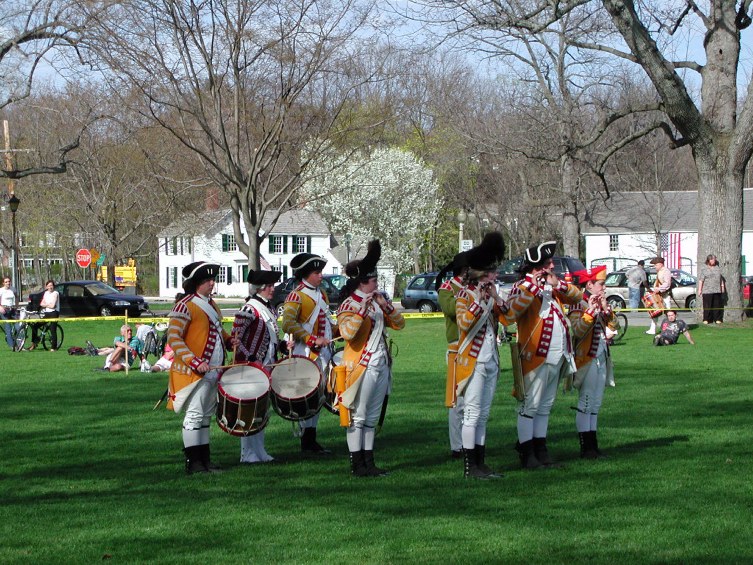 This is a picture of the Boston Garrison Music. They appeared last at the muster for the sole reason the they are British. The front line of fifes are Fife Major, Britta Anderson. John Sullivan, and Alison Falotico. The back line of fifes consist of Kelly Leet and John Keller (guest of H.M. 5th Regt. Of Foot.) The line of drums from closest to furthest is Timothy Sullivan, Andrea Wirth (1st Foot Guards.) and Matthew Gelinas.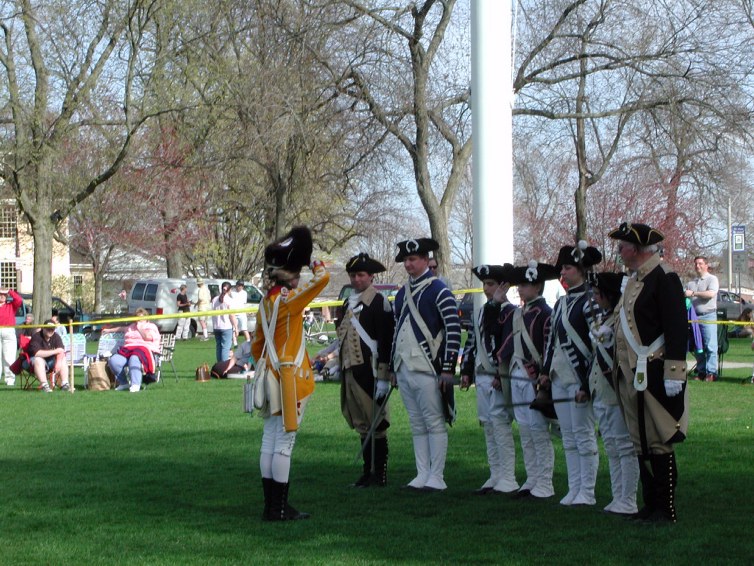 This is a picture of Fife Major Anderson receiving the Muster ribbon from 85eme Regiment du Saintonge. The muster ribbon is given to each Corp to show the organizer's appreciation for the participation of that corp.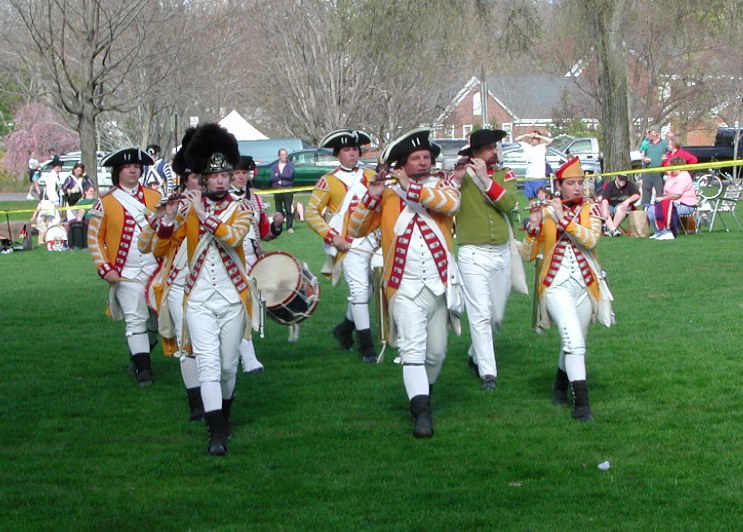 The Boston Garrison marches off the field after they finished their stand piece which consisted of Here's to the Maiden of Bashful Fifteen, I'll Touzzle Your Kurchy, Stoney Point AB drum solo, Welcome, Welcome Brother Debtor, Country Dance, and Guardian Angels.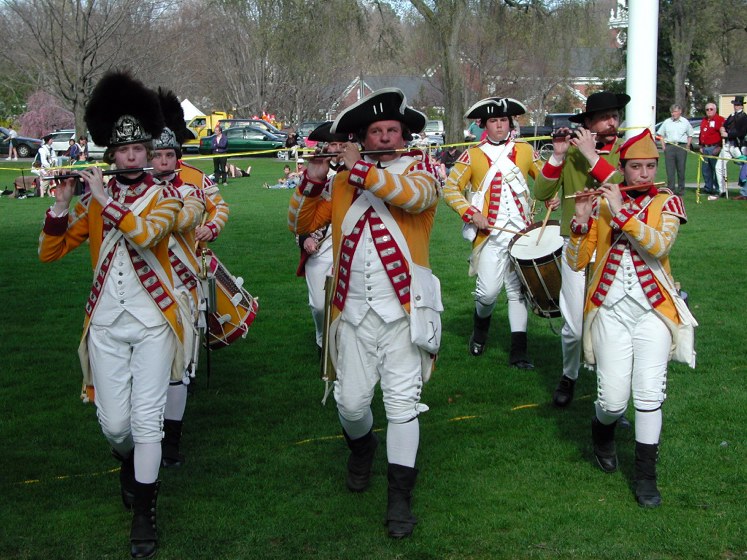 The Boston Garrison Music Marches off to God Save the King, Yankee Doodle, and Rule Britannia.
____________________________________________________________________________________
This second section is dedicated to some of the other corps that performed.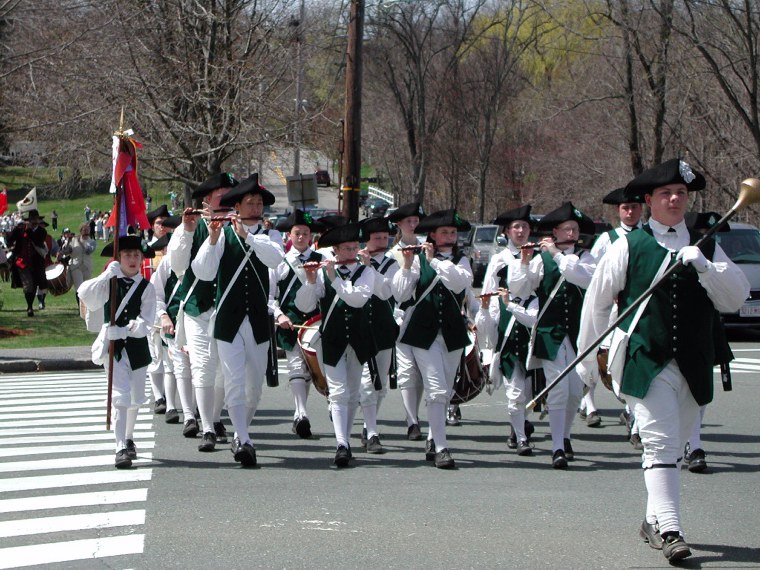 The 4-H Fife and Drum Corp, under the charge of Drum Major Timothy Sullivan, were the honor Corp of The Willow Pond Tattoo. This honor was bestowed on them because the Corp is celebrating its 30th anniversary. The Corp was established to provide quality music for the upcoming bicentennial of the American Revolution.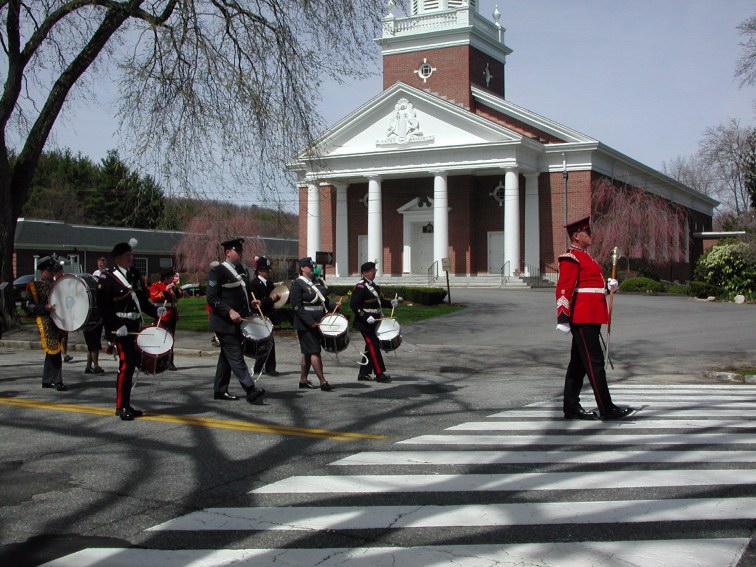 This Corp is the Corp of Drums. They held the second position in the march since they had the struggle of coming to America from England. They are assembled from the British Regiment's Music. Coldstream Guards, Wessex, Sussex, and Worchestershire are some of the regiments included.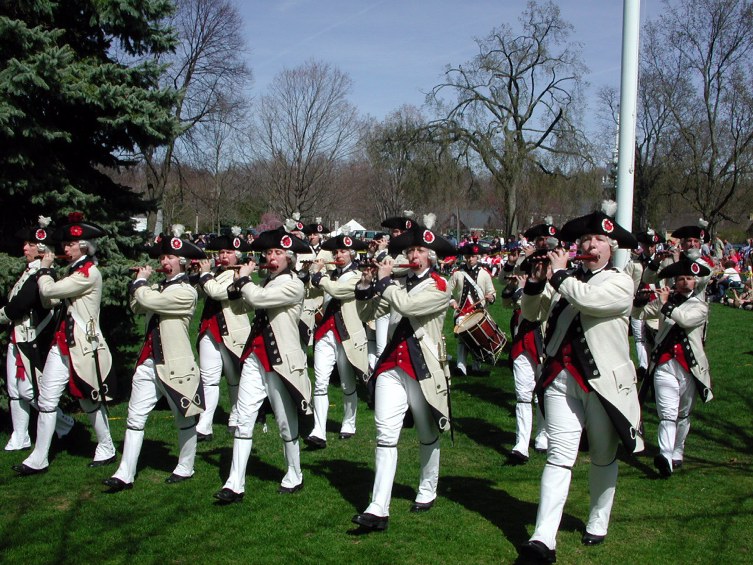 The Middlesex County Volunteers are the premiere fife and drum Corp in Massachusetts. They have performed throughout America and internationally in Switzerland, France, and England. They played for the Hollywood premiere of the movie 'The Patriot' and perform often with the Boston Pops. They currently have released 5 CDs (Massachusetts, Banks of Allan Water, Guardian Angels, Music from the Age of Reason, and Lafayette's Ghost.) They currently are producing a new CD that is composed of Christmas Music with a fife and drum twist.